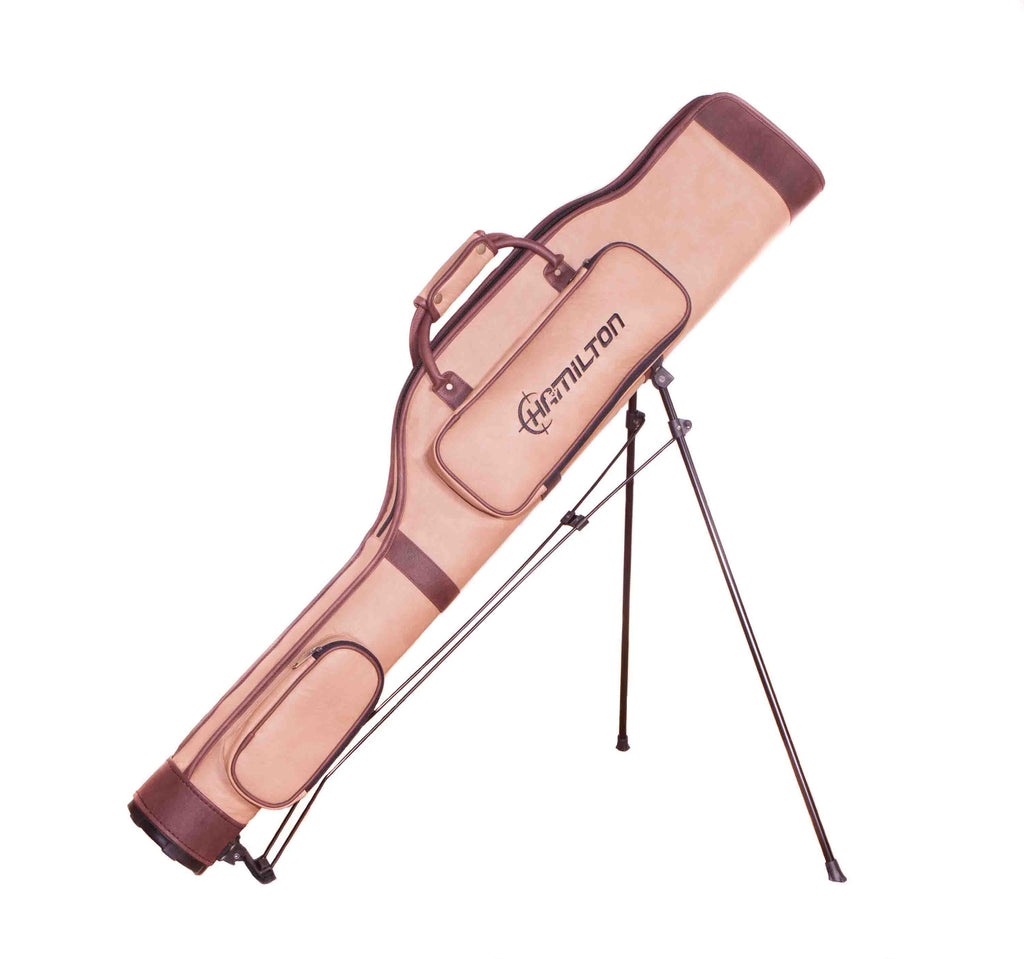 Hamilton Rifle SlipStand
1 495 kr
The all new Hamilton SlipStand provides shooters with a feature rich and practical accessory, designed solely to increase gun protection, gun safety and user convenience.
Hamilton is a UK based company dedicated to progressing the sport of shooting by combining modern manufacturing methods, new technologies and innovative thinking whilst ensuring traditional qualities are maintained.
When designing the "SlipStand" our main goals were to Maximise User Convenience, Increase gun protection and Enhance safety practices.
ULTIMATE QUAD LAYER PROTECTION
Our quad layer system protects from your gun from knocks and the elements.
The four layers of protection are:
A WEATHER RESISTANT LAYER
The outer fabric is durable and easy to clean and in conjunction with the Polyethylene layer ensures your gun stays dry. However for extra repelling properties it can be treated with a waterproofing agent like "Nikwax TX.Direct Spray-On".
TOUGH POLYETHYLENE LAYER
This layer surrounds your gun and protects from falling clays and piercing objects. It adds rigidity to the bag and resists damage from crushing.
SHOCK ABSORPTION LAYER
Unlike some conventional slips that use only flocking, wool or fur to stop your gun from scratching, we have included a half inch layer of shock absorbing open-cell polyurethane foam that provides an effective shock absorption layer.
SOFT ANTI-SCRATCH LAYER
Finally we finish the quad layer system with a super-soft dark fur flocking which covers every surface of the slip internally. This ensures your barrels, action, forend and stock will not suffer from friction related wear.
INTEGRATED AUTO-ACTUATING STAND
Keep your kit off the floor, out of the dirt and mud, makes slipping your gun easier, safer and saves your back, no bending!
The Hamilton SlipStand is built to be carried on the shoulder like a conventional gun slip but it also features a lightweight integrated pop out stand that extends automatically when you place it on the floor. What does this mean for you?....
You'll keep your precious gun off the floor where it can be damaged by being trodden on or kicked.
It is out of the dirt, mud and puddles and so keeps dry and saves time cleaning mud from your slip and vehicle seats/carpets/boot liners when you transport your gun.
It acts as a portable rest to reduce the amount of time carrying the gun and is quicker and easier to slip your gun between turns so you have more time to relax and focus for your next shot.
You don't have to bend over and pick the slip off of the floor so it's ideal for reducing fatigue and perfect for those of us with back problems.
ACTS AS A PROTECTIVE GUN REST
The pivot point of the stand was carefully chosen to support the heaviest parts of the gun (stock and action) and ensure the shot gun can be slid into the bag and retain maximum stability whilst being broken in the bag. In effect when used like this the bag becomes a mobile shotgun rest but with increased protection from overhead clay strikes and a visual re-assurance to other shooters that your gun is broken and safe.
DECREASE FATIGUE AND SAVE YOUR BACK
Did you know, on a 60 bird clay shoot, the average shooter bends over to pick up or put down their slip and gun over 30 times? Think about it, you arrive to your stand and place your gun on the floor (1). It's now your turn so pick up your gun (2), we'll assume you'll throw your slip down at this point. After your turn you'll pick up your slip and put your gun back in it (3), now you'll put your slip and gun back down whilst the other shooters take their turn (4). Ready to move onto the next stand, grab that slip and gun (5)!
SPEND MORE TIME SHOOTING AND LESS TIME CLEANING
Mud is something all shooters have to deal with but why take it home with you? Conventional slips often get dirty quickly as they have to be placed on the floor, inevitably this mud will then transfer itself up the back of your jacket or vest when you shoulder the slip, and then in your vehicle when you leave the shoot. The Hamilton Shotgun SlipStand keep your slip and gun off of the floor reducing the likelihood of getting it caked in mud. The fabric coating on the SlipStand is a fully synthetic fibre which can be wiped down easily with warm water and a soft cloth, we also recommend using a water repellent treatment to further protect the exterior of the SlipStand.
KEEP YOUR GUN VISIBLE AND SAFE
A lot of slips are finished in dark colours, especially green like ours! However when you lay a slip on the grass especially long grass, it can be hard to see and easily kicked or trodden on which can damage a gun. It also becomes a trip hazard which at the best of times is not a good thing but is somewhat more important to consider when the majority of potential "tripees" are carrying shotguns. The Hamiton SlipStand will keep the gun and slip elevated from the ground and thus increase its visibility and reduce the risk of a trip.
UMBRELLA ATTACHMENT AND EXTRA STORAGE
Never get caught out in the rain with our universal umbrella fixings. Store accessories like chokes, snap-caps, cleaning equipment etc in our large size storage pocket
UMBRELLA HOLDER
Hamilton also makes high quality umbrellas with automatic opening and air vents to ensure stronger winds don't snatch the umbrella from your hands. The umbrellas can be attached to the side of the SlipStand quickly by use of a quick release toggle and loop for the umbrella spike.
ACCESSORY STORAGE
A large size storage pocket on the front of all SlipStand bags is a perfect place to keep items you'll need quick access to like Chokes, Glasses, Pen/Paper, Snap caps and other handy bits and bobs you may need on the shooting ground.
HEAVY DUTY HANDLES & STRAPS
The heavy duty grab handles make transporting your gun easy. Carefully balanced to ensure the gun remains level and doesn't twist your wrist, the grab handles make it easy to remove your kit from your car or to quickly move your SlipStand. All SlipsStands also come with a shoulder strap and colour co-ordinated strap pad for comfort, this allows you to carry your gun for longer distances on foot and reduce fatigue.