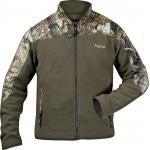 Rocky Casual Lifestyle Fleece Jacket
You know those days when you don't want to lug around your bulky, always awkward to carry, jacket but you still don't want to go outside and expose your skin directly to the elements? Really, it's Murphy's Law... If the wind doesn't instantly leave goose bumps all over your arms, then it would certainly have to start sprinkling 10 minutes after you left your place. This #609476 Rocky Casual Lifestyle men's fleece jacket is the PERFECT solution.
This good-looking fleece is very light in terms of weight and has a veryrelaxed, comfortable fit, which allows you to be able to wear it effortlessly throughout the whole day. Plus, it feels super soft, provides unexpected warmth and you'll be pleased with how quiet the material is -if you own one of those jackets that swishes with each step, you may like the silence of this fabric the best.
Another beneficial part of wearing this men's fleece is the full-length zipperthat runs down the front of the jacket; having this allows you to control how much air flows into the outerwear and you are also able to access the garments that you have chosen to layer underneath easily. Its pull may seem like such an insignificant component, but it's great to have because you will have no difficulty getting ahold of the zipper.
Having two pockets on the waist of this men's jacket is ideal, because it gives you a convenient (and very handy) place to store your belongings. To ensure that the items do not fall out somewhere along the way, the opening has been closed off with a zipper.
Considering its fine appearance, the softness of the material and the lightness of the whole garment, it is easily to understand why this #609476 fleece would be an outstanding item to throw on daily. Get one for yourself today!