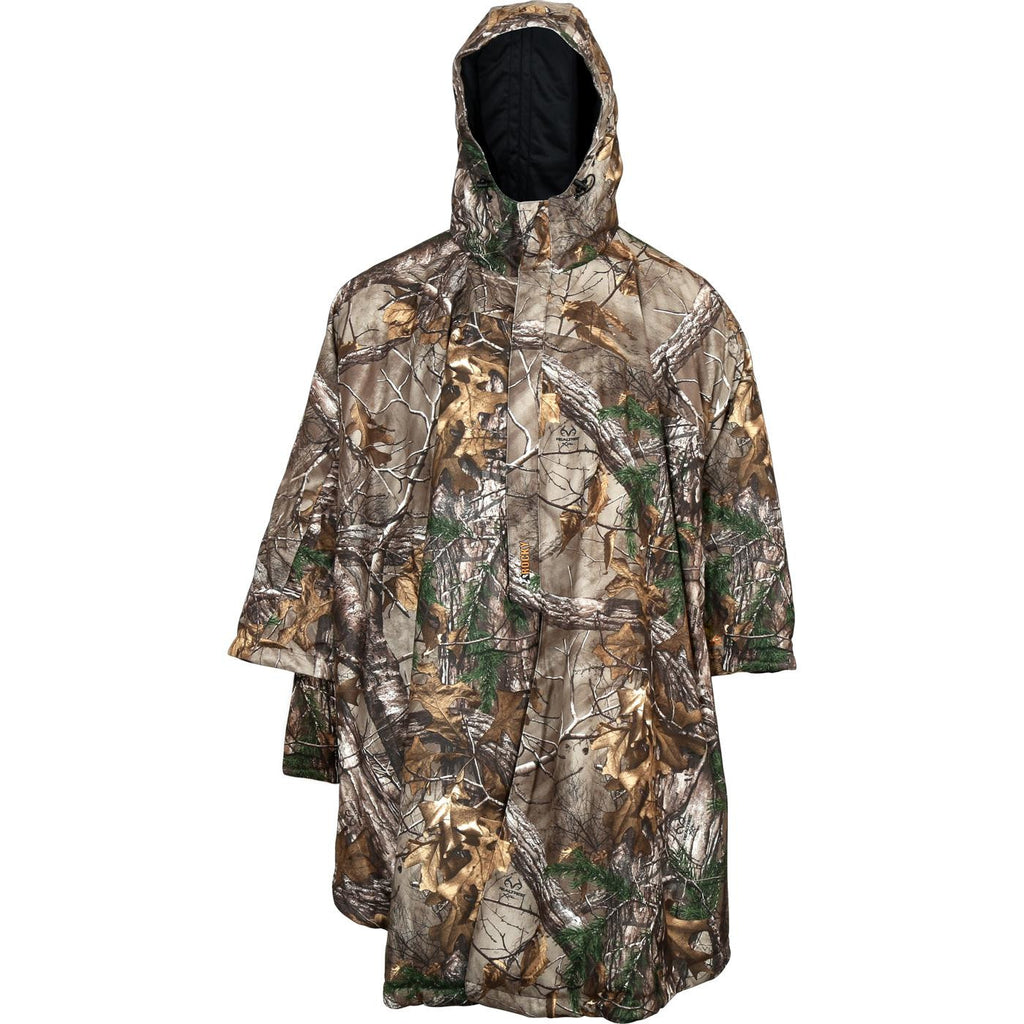 Rocky Silent Hunter Stealth Cloak
The Rocky® SilentHunter Stealth Cloak is waterproof camo hunting gear with silent removal and odor eliminator. This poncho is great for bow hunting.
If you're a hunter who looks for the latest technology and outdoor gear available that will give you an edge or enhance your experience, then you want hunting gear from Rocky. Our designers created the cloak to have stealth concealment technology, function and comfort. This is the outerwear for serious hunters.
The clothing is made of SilentHunter suede fabric that is completely silent. Animals won't hear you moving through the woods or in your tree stand.
This cape is designed to be long enough to sit on for additional comfort and warmth. The dimensions are large enough that you can wrap it around you and put up the hood for additional concealment or warmth.
When your prey does come along, you can stand up, open your hooded cloak and raise you bow, freeing your arms for the shot. The poncho has a harness slot and has magnetic clasps for quick and silent removal. There's no noisy VELCRO® or zipper here. Wildlife won't detect your human scent either. This apparel has Rocky Scent IQ™ technology. It attacks odor at the microbial level to eliminate human scent that otherwise would be picked up by your prey, tipping them off to your position.
For additional concealment, this is Realtree Xtra® camouflage clothing. You are sure to blend with your surroundings in this camo.
This outerwear is waterproof due to Rocky Waterproof Construction. It's guaranteed to keep you dry on the hunt. The material also wicks away moisture with micro-denier fibers.
Beyond the great design of the cloak that you can wrap around you, this also is an insulated cloak. It has 80 grams of insulation.
Finally, this waterproof insulated clothing also is windproof. No wind will get through the material.
If you want the best in performance hunting clothes, this is it. Get the Rocky SilentHunter Stealth Cloak.
Guaranteed Rocky® Waterproof construction
Rocky Scent IQ Atomic destroys human scent control on the microbial level
SilentHunter suede fabric, micro-denier fibers wick moisture away and allow for complete silence in the woods
Realtree® Camo
Windproof
DWR (Durable Water Repellent) coating
Harness slot
80g of insulation
Magnetic clasps for quick and silent removal
INSULATED
Traditional insulation - typically felt or polyfill material offers a thermal barrier without the added benefits of premium insulations.
ROCKY® WATERPROOF
Rocky® Waterproof construction fuses a waterproof inner layer to the shoe upper providing a barrier that keeps water out. The waterproofing lines the entire boot, ensuring complete protection.